Budo Grape gig in Manchester
on 28 October 2012
Doki Doki and It Came From Japan are excited to present Japanese avant-garde pop band Budo Grape, who will be playing in Manchester on one of only three dates during their first ever visit to the UK. Support is from local artists SK8BIT and Shirokuma.
The gig will take place on Sunday 28 October 2012, upstairs at Gullivers, 109 Oldham Street, Manchester, M4 1LW (map).
Doors will open at 7pm and the gig will be finished by 10:30pm. Tickets cost £5 in advance (more on the door) and are available from Skiddle. This is an 18+ only event.
More information: Facebook event; Flyer
Budo Grape
Budo Grape are a catchy, high-energy avant-garde pop band from Nagoya, Japan.
The band are fronted by model and radio personality Quminco on vocals and Nagoya music legend Nagai (formerly of The Shockers), who is Budo Grape's chief songwriter and guitarist.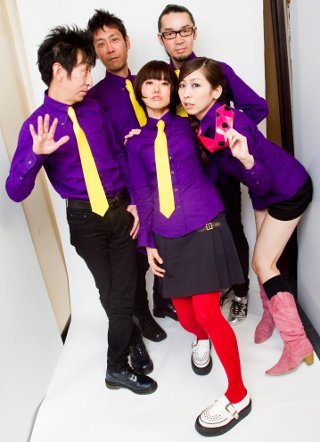 Formed in 2001, Budo Grape released their first full album, KOIBITO WA KOUSHITE TSUKURU, in 2005. The album was a hit in the Japanese underground scene and was followed by a number of other exciting albums.
The band's cred soon spread and they were invited by overseas fans to play in the United States, performing their successful debut live tour there in 2008 and releasing a best-of album, JUICE!, via a US label. The band also participated in a tribute album for French singer-songwriter Claude Francois, released in Japan as well as France.
New keyboardist Naho joined the band in 2012, bringing with her an edgy synth sound that has given the band's sound a boost. They released their sixth album, KARE NO NAMAE WO OMOIDASENAI, the same year.
The band, whose members all have Grape as their last name, claim to come from 'Neo-Nagoya'. They continue to tour Japan with their crazy live show and catchy songs, and in October 2012 they will perform their long-awaited debut concerts in the UK.
More information about Budo Grape
SK8BIT
SK8BIT is fronted by Andy SK8BIT, a party DJ who writes and produces his own stuff too. Since starting in January 2012, they've been playing nights and parties all around the North-West of England to the sweaty, heaving masses. They mix up chiptune, punk, baile, old-school loops and gay disco and then turn the volume up as loud as it will go.
Shirokuma
Shirokuma is an innovative musical project created by Liverpool born writer and producer Mark Corrin. A frequent collaborator with many local and international guest vocalists and musicians, the tracks that Shirokuma produces constantly evolve and mutate in terms of style and genre, but can often be characterised by elements of male/female vocal interplay, surrealist lyrics, catchy melodies and short song lengths. The playful and varied musical backings are woven from electronic and organic sound sources and have previously incorporated elements from such styles as psychedelic pop, punk, electronica, French pop, comedy, folk, chiptune, grunge, drum 'n' bass, surf and hip hop.